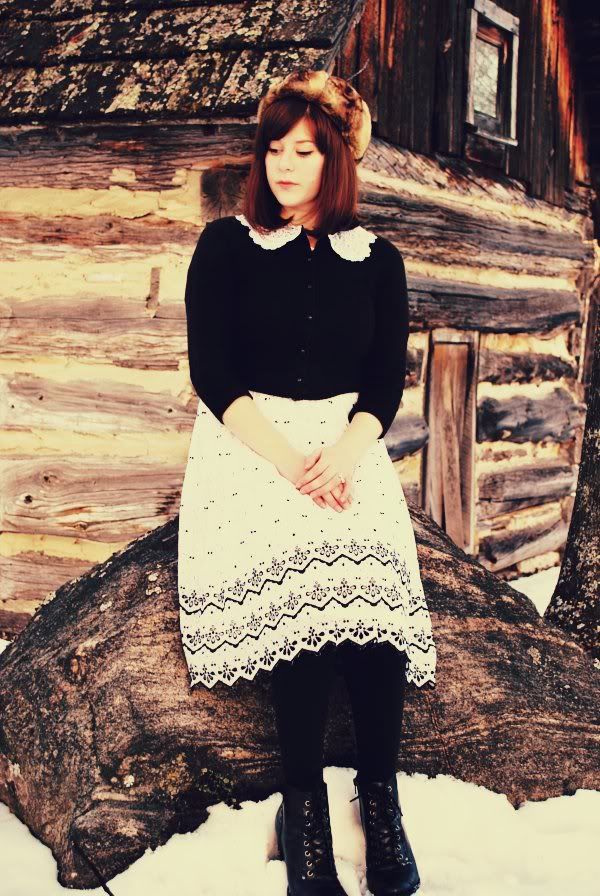 from
Lulu Letty
Ok, first the announcement, before I forget yet again to mention it. I'm going to New York for a week (leaving this Sunday, returning the next). I'm über excited, as I've never been before, and basically, have hardly even been in the US before. So, if anyone happens to live in New York or Brooklyn, or some nearby place that I don't know about because I have no sense of US geography, and is interested in a coffee or something like that, let me know!
Moving on, it's spring now, so I figured is was time for one of my seaon-ending recaps. I saved so many pictures that inspired me over the winter, and was pretty brutal in cutting them, but here are some of my favourite bloggy outfits from the last few months. Oh, and Maria at the top was my absolute favourite look of the entire winter!
Tonal Neutrals:
from
Barbro Andersen
and
Style Bouquet
I'm generally a fan of colourful outfit, but if there's ever a time to retreat into a neutral palette for a bit, winter is it. I love how Barbro and Abi took some potentially blah colours, in navy and brown, and upped the ante with awesome silhouettes.
Cosy Patterned Sweaters:
from
Letters from Maud
and
Idée Géniale
I know grannie-chic is all the rage these days, but I have to say that I like grandpa-chic the best. Especially when paired with some more bonkers patterns (Maud) or velvet collars and platforms (Mel). I guess this is also my French Canadian tribute of the post... next winter I'm heading to Québec to get lessons in how to wear great sweaters!
Beatiful Dresses, Awesome Patterns:
from
The Clothes Horse
and
Lulu Letty
I'm actually not a big fan of floral print dresses (although I own my fair share--they're everywhere) so I loved the unusual patterns on these stunning dresses. The fleur de lis print on Rebecca's was eye-catching, especially when perfectly paired with the military jacket. And the waving-grass motif on Maria's? Gaaaah!
Red and Green: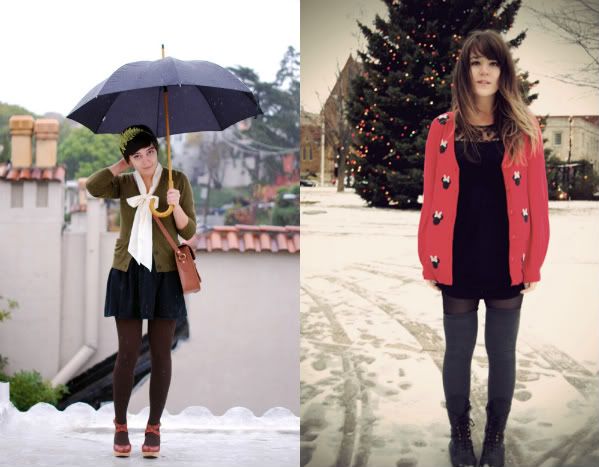 from
Calivintage
and
Selective Potential
This is the season of Christmas, after all. I loved Erin's use of bright green (especially on the headpiece). As for Tieka and her perfectly proportioned use of knee-highs and a Mickey Mouse sweater, I was going to have a hits of the holidays post, but didn't get around to it. But hers was hands-down my favourite Christmas look. Playful and colourful!