There have been a lot of fashion-specific New Years Resolutions floating around the blogosphere lately. There's a recession-friendly trend towards wanting to build the kind of wardrobe that will last for years. However, I notice that those in style circles, when discussing wardrobe building, frequently talk of a) cleaning out your closet and getting rid of at least a third of your stuff and b)repopulating it with white button-ups and little black dresses and black pencil skirts--the "basics."
This may work for some, but outside of office wear it definitely doesn't work for me. LBDs are classic, I guess, but they really put me to sleep. And isn't fashion supposed to be fun? Here are my alternative pointers to wardrobe building.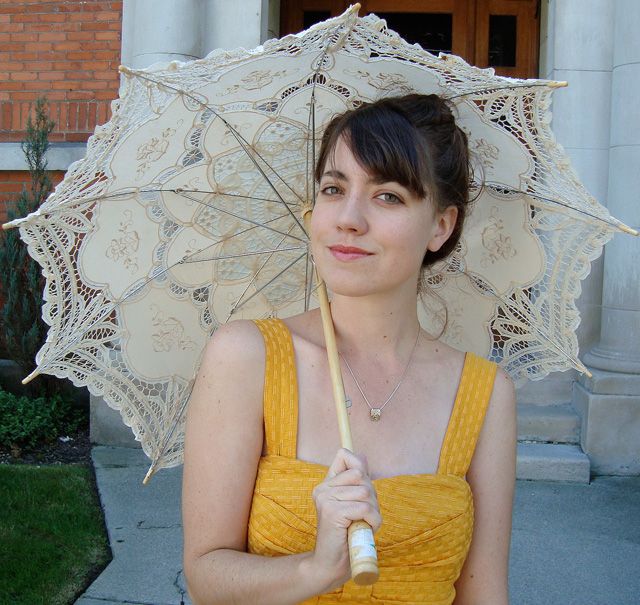 with a box-dived parasol this past summer, originally and uselessly bought in 2004
a) Unless you have to,
don't
get rid of all your stuff
If you're bored to tears with your clothes, put them in boxes, stick them in the attic or wherever, and leave them to marinate for a year or two. Things that don't fit or are unsalvageable should certainly go, but anything you've ever loved or which is really good quality should stay. Trends and silhouettes come around. I've put everything from vintage lumberjack shirts to berets to leather ankle boots in the "to donate" pile. Luckily, in each case, someone in my family rescued the above items, and where would I be without them now? If you've read my posts from Canada, you'll know that half my wardrobe is a result of "box-diving" in the attic, including my
New Years Eve dress
. It's amazing how exciting your old stuff can be after an enforced absense.
box-dived sandals and bag.
Who knows how many times this hand-me-way-down wool shirt escaped the donation pile?
b) Buy things you love, and the occasional basic to support them.
I don't love little black dresses, at least, no more than little yellow dresses. I suppose I could wear an LBD every day for a year with a different coloured scarf and call it an outfit, but
yawnnnn
.
I do love dresses though. I want to fill my wardrobe with good-quality, exciting dresses in whatever colour they come in. I know I love dresses the best of all the different fashion items, so they don't need to go with everything... everything needs to go with them.
The basics for me come into play in the form of tights, shoes and sweaters. Here I make sure (or I try) that I have black and brown and red (a neutral colour) shoes, grey tights, and so forth. A wild dress will always have its place in my wardrobe. A wild cardigan may cause problems if it doesn't go with the dresses (which are the priority).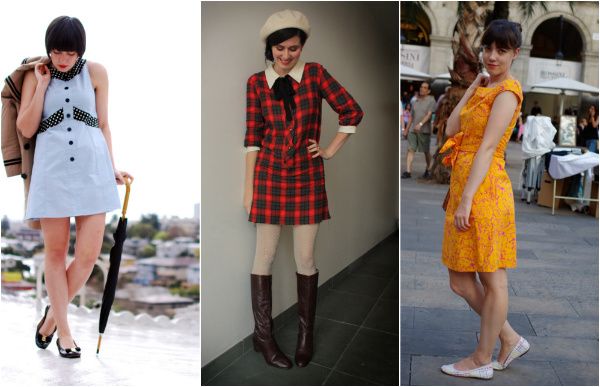 Whose basics? These would make it into my suitcase before an LBD anyday... Calivintage, The Styling Dutchman, and me, back in August.
This is just me, I love dresses. If your passion is shoes, you might want to build a wardrobe from the feet up. If you find you gravitate towards patterned and colourful tops, you'll probably need neutral skirts to go with them, and vice versa. Keeping this in mind helps streamline a wardrobe and makes the decision as to what can and can't come in easier. I can easily justify a new fire-engine red dress, but turquoise floral shoes might be a little more difficult.
My own fashion New Years Resolution is to buy only one item per month**, which should limit the amount of time wasted thinking about things I "need", while still giving me something to look forward to. I know that several months will be claimed by dresses... and I'm looking forward to it.
What do you think of my "prioritizing a fashion item" technique? Do you have any tips for making a capsule wardrobe without getting boring?
**
excepting perfect basic cardigans when they show up (almost never). I never have enough (currently only two) and they are a basic, after all!
Ruby Slipper Journeys on
Twitter
and
Facebook