January has been my shoe-buying month these past few years. I discovered a couple of years ago that I had hardly any winter shoes, and since then have been slowly building up a collection in the January sales. The boots in the post below were last years contributions.
I'm a bit nervous that both this years' selections are heels, even if low heels. I'm one of those people who really has issues walking in heels. The last pair I bought were in South Africa, and walking for about ten minutes total over the course of an evening out left the balls of my feet stinging furiously... I'm such a wimp. Those shoes got unceremoniously thrust in a box in Vancouver. However, I kind of found this years offerings irresistible, and they're both comfortable and well made as heels go, so to I'm going to do my best to overcome my nightmare ankles. And also to leave the house on time in the morning, since I definitely can't walk too fast!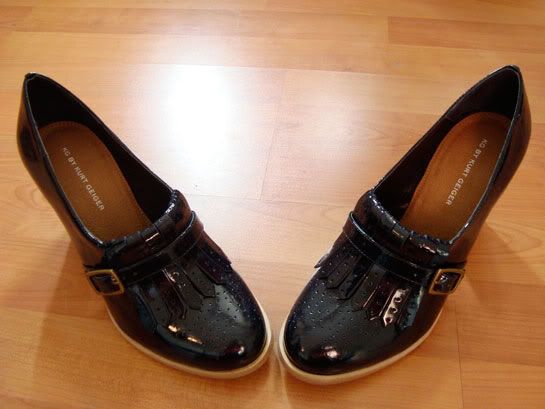 This sight made me happy the other day. Sometimes it still doesn't sink in properly that I live in East London... the mythical East London of small and big time gangsters, flower girls, artsy parties, and Indian restaurants, depending on your decade. I saw a map in the Museum of London the other day which had all of London in the late 19th century colour blocked into various socio-economic groupings. My street was listed as "Poor/Semi-criminal." Oh yeah!