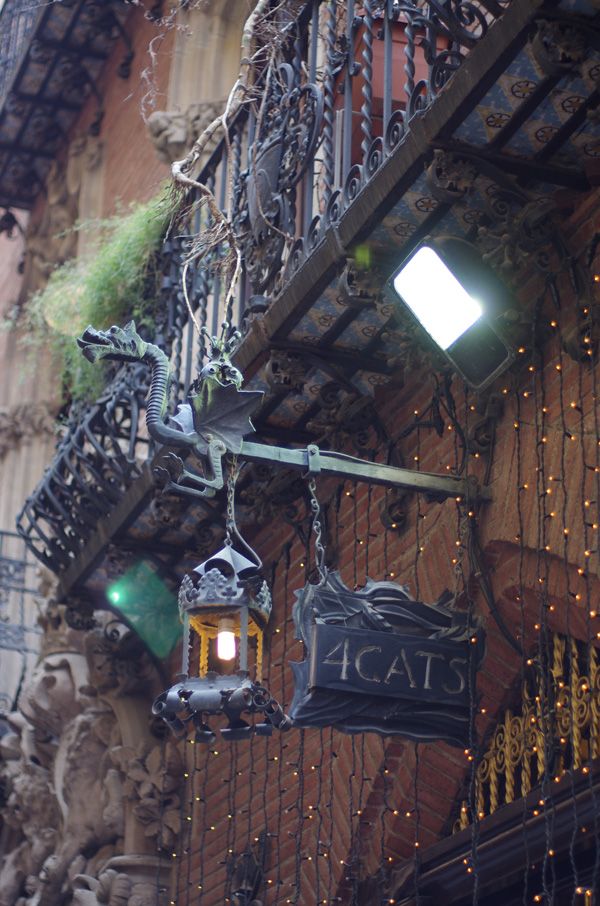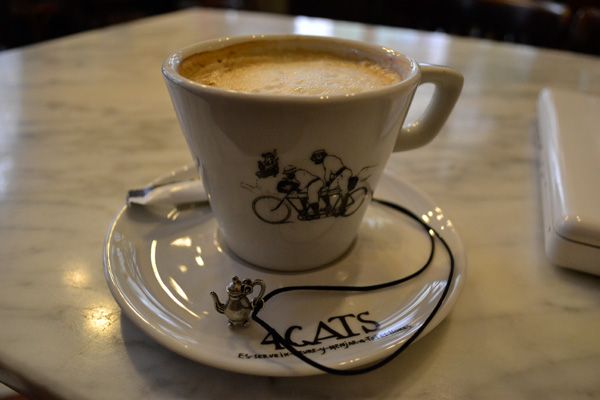 The coffee houses of the seventeenth and eighteenth centuries were hotbeds of debate and discussion on all manner of subjects by the learned, artistic, and famous folk of the day. As such, coffee and all things associated with it came to invoke eloquence and quick thought.
So read the little card that came with this coffee pot necklace (with a lid that opens and closes--gaah!) that my mom bought me as a New Years present. It couldn't be more perfect, since I am always escaping to cafés to work on my book (getting away from the internet is worth all the money I've spent on coffee these last few years and more). Usually, my requirements for a café/hideaway are simple: I like big windows, cheapish coffee, and plenty of ambient noise, but preferably no power ballads or gaming machines. Occasionally though I take myself somewhere a bit fancier, such as
Els Quatre Gats
, the historical-treasure-cum-tourist-trap, where Picasso and his artist friends used to gather. It's only a theme-park version of its former self these days, and frankly, the no-name place around the corner doing breakfast seemed to have a better atmosphere, but I like to roll in every few months anyway.
Does your town have cafés that keep discussion and debate alive? It can be a hard balance to hit actually. Barcelona probably has more café/bars than anywhere I've ever been, but I find myself eliminating many of them for one reason or another: too expensive, bad quality, too noisy, too quiet, clientele too posh, clientele too dodgy, revolting croissant, terrible music, staff-insist-on-speaking-English-to-me or whatever. Still, going out for coffee here is one of my favourite passtimes, and I think I like Els Quatre Gats now and again for the historical context. I feel that the ubiquity of free wifi and Macbooks has kind of killed the best part of café culture in North America this (says the girl with a Macbook who's often to be found anti-socially clacking away), but there are always little oases of public space tucked away here and there...