So this makes my second post title named after a
Flavia de Luce
book (the other one was "I am half-sick of shadows," and yes, I know that's also a line from Tennyson). I'm completely in love with these mystery books, featuring an eleven year old girl sleuth in the year 1950. Flavia reminds me a bit of myself as a child, except that I wasn't a precocious amateur poisoner. And I didn't live on a country estate--I just pretended I did. Anyway, this post had to get the title of the third book, which has a plot point turning on a statue of Neptune (and just look who's chilling behind me). And another plot point rests on fish, and just look what I randomly found by the artificial lake in the park at 8 am on Saturday morning when I went to take these pictures... eww and wtf?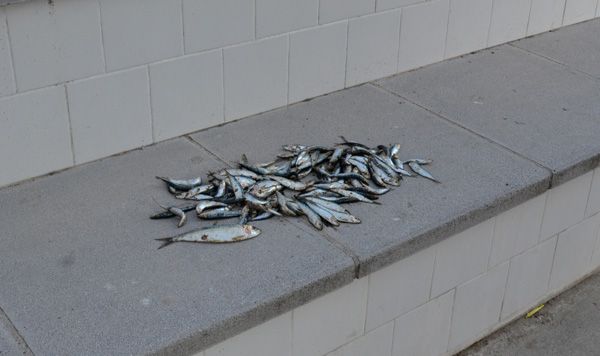 In other news, I'm trying to think of other, more interesting ways to wear this blouse, but so far I'm not having much luck. Maybe due to the complete lack of skirts in my wardrobe... any ideas?
shorts: H&M Wateraid Collection, blouse: Desigual (gift from Albert), beret: very old, shoes: ebay, jacket: H&M, bicycle pin: gift from my mom, pile of dead fish: eeewwww.