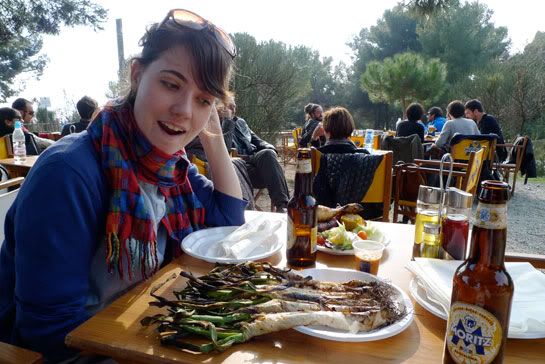 I'm baaaaack! That was the longest I've disappeared from the blog since I started, but I think the break from everything was definitely needed. Even if that means I have loads of uni work to do now, which I'm avoiding by updating the blog instead! I had a great week in Barcelona: super-laid back, full of really dubious hairstyles, and I think I wore the same sweater for five days in a row, but it was awesome!
I had one of the famous Barcelona experiences, which people have been telling me about since I first went in 2007, but which I'd never managed to catch before--a calçotada. Calçots are large, sweet spring onions that are available for a short time in February and March, typically barbequeued and served with a romesco sauce. Albert and I went to eat calçots (and Catalan sausage and chicken and salad) one sunny Sunday with my ex-flatmate, high on a hill next to the castle and overlooking Barcelona's port. I didn't set my expectations too high, since we're talking about barbequeued onions here, but I thought the calçots were really nice and the tradition absolutely delightful. I'll definitely try to be here at this time of year more often!
You pull the calçots out of their skins, dip them in the sauce...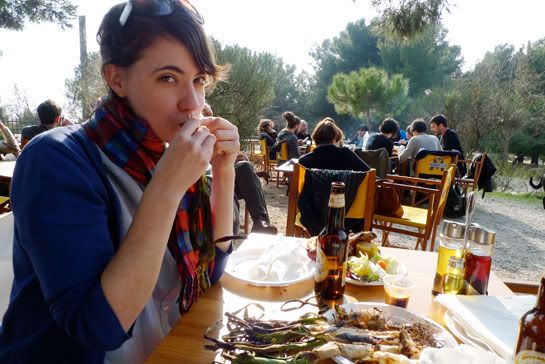 ...and enjoy!
My ex-flatmate is French, and every bit as travel-happy as I (she just came back from a year in Australia). One of the best people I've lived with; we shared the worst living situation ever: two dark, windowless rooms in a flat with a completely insane Spanish landlord who had ridiculously dim energy-saving lightbulbs installed everywhere, and liked to turn down the water in the toilet to save on the water bill. He also liked leaving passive-agressive notes around the place: "Turn your computer off, don't just put it to sleep. It wastes energy." He was also a big Heavy Metal fan. Bah! Never live with your landlord.
Barcelona has the second busiest port in Europe, I'm told.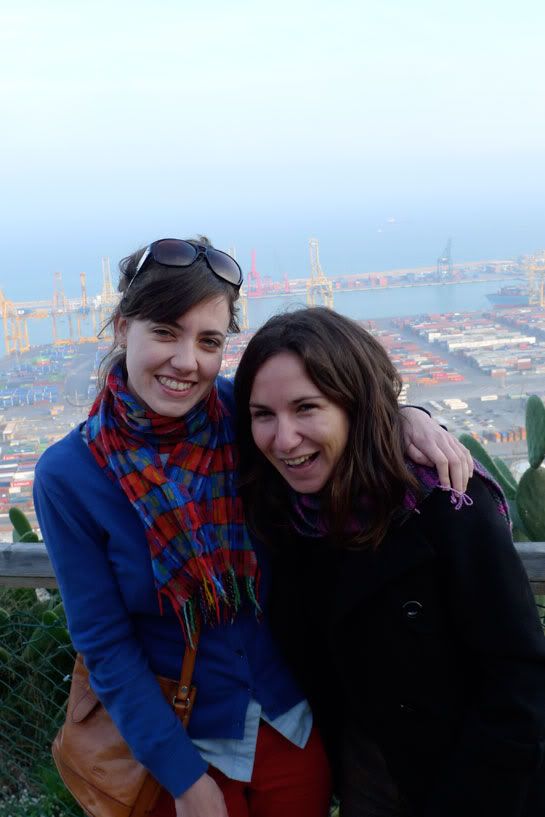 Anyway, after all this time in other countries, it was great to reconnect again in lovely Barcelona!
red jeans: Zara
cambric shirt: Pure by Alfred Sung
cardigan: Current
scarf: charity shop
sunglasses: Sanborns in Mexico
bag: vintage (Mom's)
Oh right. Photos by Albert!