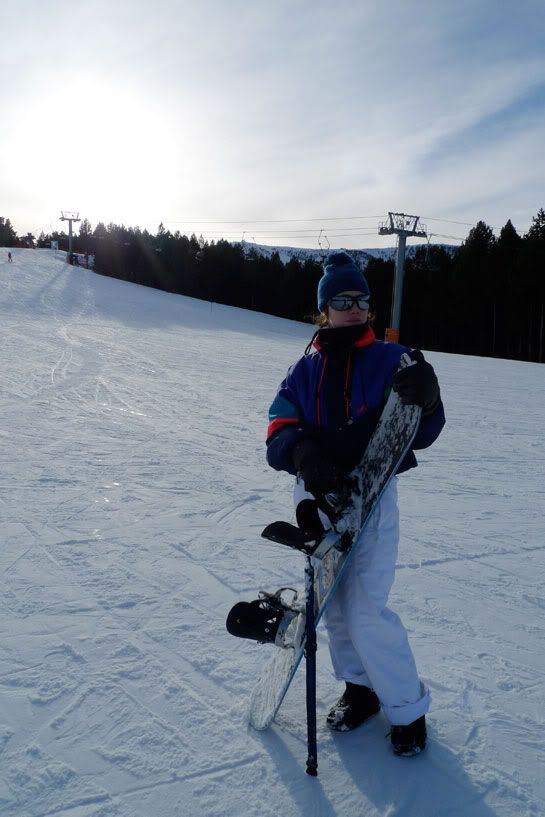 Mwahaha!
I promise this will go back to being a
fashion
blog soon, but I felt that I couldn't let Valentine's pass without an outfit post so...
My boyfriend took me (well, us) to Andorra to go snowboarding for Valentine's Day. As I said before, I don't really celebrate it much, but we figured we would have done something decadent for my week's holiday so we might as well coordinate it. I took us out for dinner. And then we both staggered home with our bruises declaring "don't touch me!" Neither of us really knew how to snowboard before, so we were a bit sore to say the least.
Andorra is a curious country: beautiful scenery and quite an ugly little city. The economy could be described as a combination of Switzerland (skiing and tax evasion) and the duty-free lounge in Heathrow Airport ("shop till you drop")!
Have you had an eye full of that jacket yet? Now imagine it... in duplicate! Yep, I was wearing Albert's brother's jacket from when he was twelve, Albert was wearing his own from when he was fifteen, and apparently their mom thought matching sons was a good way of keeping track... The three days in Andorra were definitely the least stylish of my life (it didn't help that the snowboarding pants were all sold out in my size so I was wearing them three sizes too big). Hehe. Sometimes it's quite liberating to be deeply, deliberately unstylish for a bit. And it was certainly comfortable.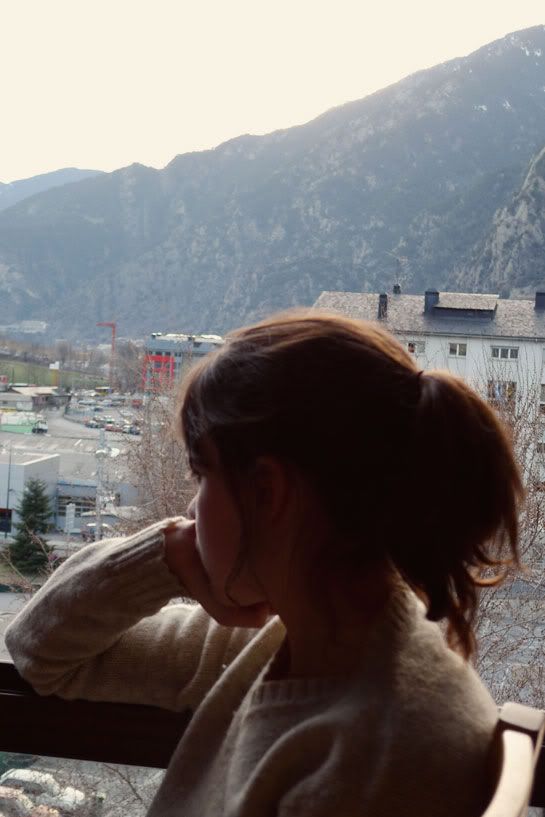 I was given this sweater about two weeks ago and have worn it at least ten days out of the fourteen. It was Albert's mom's from the seventies, and I am completely in love. I've stated before that I don't much like "basics" or "classic, key pieces," and that the Céline-esque collections make me really bored, but I think actually it's upper-class classic style that I don't like, and actually I really like folk pieces, or classic working-man's style.
In fact, while in Andorra I started reading the wonderful
Travels with Charley in Search of America
, by John Steinbeck. It's a memoir of Steinbeck's travels in the 1960s with his dog, and at one point he describes a group of French Canadian labourers harvesting potatoes in Maine:
"The women and girls wore pants usually of corduroy and thick sweaters, and they covered their heads with bright-colored scarves to protect their hair from the dust that rises from the fields with the smallest wind."
Note to self for next fall...
Photos by Albert