These pictures are actually from today (unheard of on my blog). Today is my twenty-eighth birthday.
I think I've been kind of embarrassed about my age since starting my blog. The blogosphere is so full of eighteen-year olds with their own businesses, modelling contracts, works published in magazines I still can't afford subscriptions to.... but never mind. I think I'm going to like this age... the thought of it approaching hasn't given me any trauma like some past years, but feels like a good fit. Do I wish I was turning twenty-four? Sure, obviously. I spent my twenty-fourth birthday sitting on a beach in Barcelona, and life was good. But I remind myself that the past four years don't just boil down to looking a bit more tired each morning.... I've also acquired a Masters degree, learned two (well, one-and-a-half) new languages, lived in three other countries, written two books (publication is this year's goal) and spent a truly shocking amount of money on coffee and dresses. And, I remind myself further, if I'm currently working part time in a job that is soooo not for me it's because I choose to... I chose to come live here again, and I chose to work part time so I could focus on said books. I've got a wonderful family, lovely friends... and choice. I'm truly a lucky twenty-eight year old. Plus, I've just received a $50 voucher to Amazon from my sisters in my email, so bonus! Thanks Mo and Sho!
The card is from my dad (he hid it in my suitcase, like always) and is a close-up of some Tiffany's stained glass windows--we all like a bit of Art Nouveau en mi familia.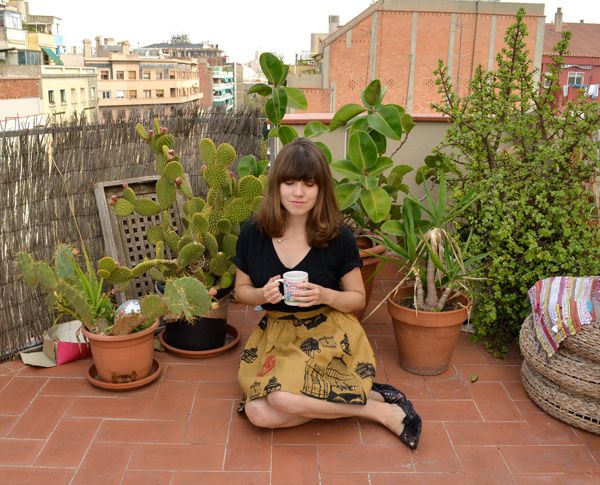 P.S. How amazing is the terrace of my new flat? Shared flat, obviously...
P.P.S. This outfit couldn't be any more me. Posh skirt paired with t-shirt I've been sleeping in for a week. ; p
skirt: Snoozer Loser (last year's birthday present to myself), t-shirt: American Apparel (stolen from Shona) necklace: gift from my mom, shoes: Blowfish (birthday gift from Mom four years ago).
Pictures taken with my and my parents joint birthday gift to myself... my new baby camera. ; D