Changing room lurkings is back! Longish-time readers may remember when I went to Urban Outfitters and
tried on all the tba dresses
I couldn't afford, and blogged about it. It was strangely therapeutic. I still couldn't afford them, but after blogging about them I felt like I didn't need them after all, I'd already "had them" in a way. And these days I'm inclined to think of them and sniff "£150 and it was still polyester velvet--hrmph."
So today we're going to that powerhouse of Barcelona fashion, Desigual. For some reason, Desigual gets largely ignored by bloggers, who prefer the infinite blandness and frequent poor quality that is Zara (cough, and 'sorry,' to the devoted Zara fans...) But I kind of love Desigual. It's crazy, colourful, clashing, and if the label said "Marc by Marc Jacobs" instead, it wouldn't be much of a stretch and everyone would be drooling over it. But my favourite thing about Desigual is that in their clothes, your chipping red and green Christmas nailpolish is no longer a lazy afterthought, it's the only reasonable manicure to have. So there! ; )
First up: I have too many coats already....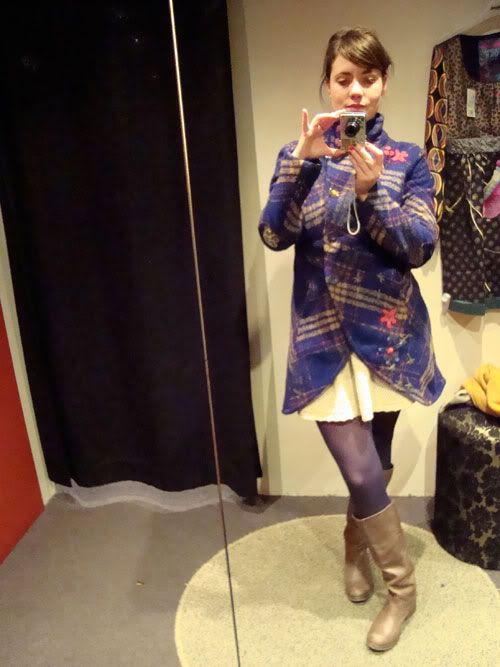 But I could probably make room in my heart and on the back of my door for this one. It's electric blue, I'm mad for plaid, the buttons are multicoloured, and the various coloured safety pins could be romoved. I'm all for colour in the winter; otherwise I kind of look like warmed up play-dough...
I definitely have too many dresses but...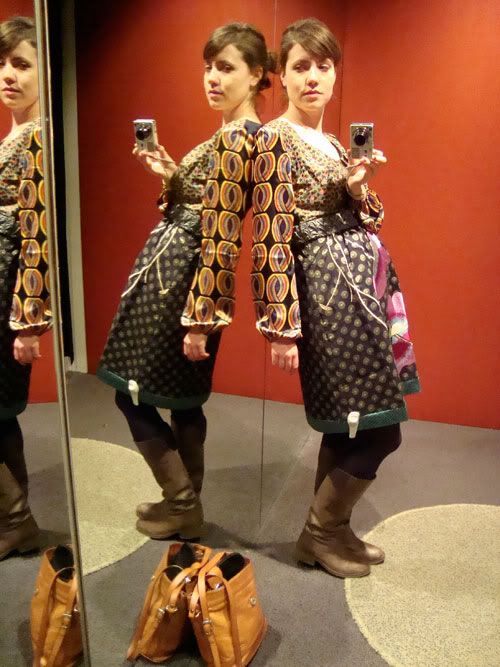 Three patterns, an innumerable array of colours,
sleeves
... Unfortunately, there are three Emilys in the above picture and not one of them gets to take home this dress, due to mad inflation at Desigual in the last few years. Bah.
I'm not even a hearts person, but for you I would make an exception.
See you all again on New Years' Eve, when hopefully I will have a rough draft of paper #1, at the cost of a few more wrinkles...