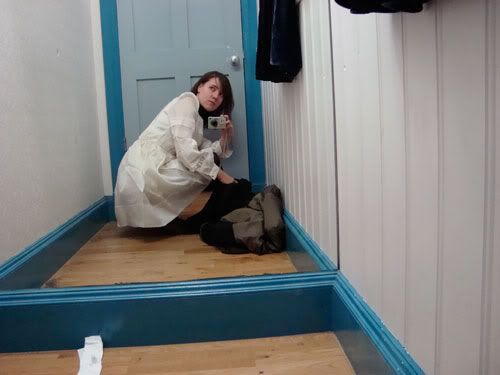 I don't know if anyone else has been sighing over the dresses from smallish label
tba
to the same extent that I have. Until recently, it was internet lusting only, but I remembered that the
UK Urban Outfitters
stocked a selection, and made a point to pass by one last week. Since I had my camera, and since it's likely the closest I'll ever be to those dresses, I thought I'd give you a "publicity vs. reality" tour. Oh, and I know the photos are not up to my usual standard, etc. etc, but I was in a changing room after all!
The three guinea pigs: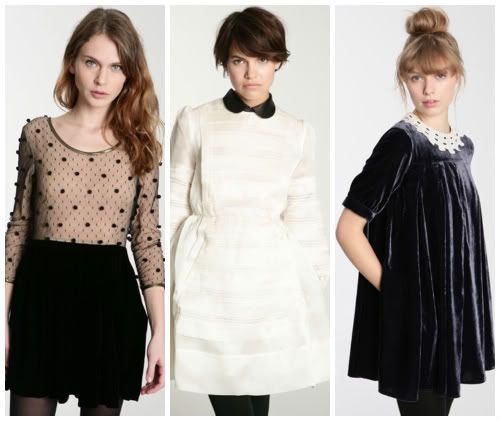 First up, the white silk dress:
I have to say, I was actually not impressed at all by this dress in person, definitely not to the tune of £180... It says it's 100% silk but certainly didn't feel like it, and overall was strangely stiff and had a shape of it's own, which didn't have much to do with my shape. And it was just so peculiarly large and poofy. I like things that are "doll-like" in theory, but there's a difference between doll-like and looking like a doll. I could imagine being sent away from the Christmas dinner table to stand in the corner in this dress. Most odd.
The pom-pom dress:
This dress was a whole other story. I wasn't expecting to particularly like it, but I just
loved
it. The skirt is heavy black velvet that rises and falls in an inky wave when you spin, and the top (though clearly a bit sheer) was a nice colour that didn't wash me out, as neutrals often will.
The blue velvet dress: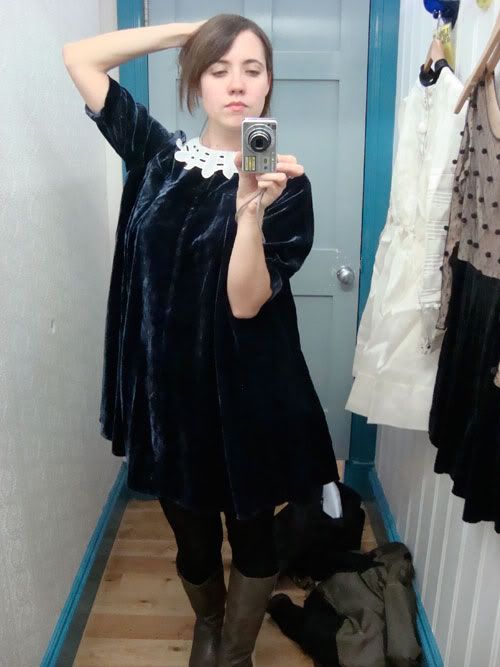 Sighhhhhh. I'm really in a velvety mood this year (I think I've always loved velvet, but there hasn't been any nice velvet to be had since about the 90s...) This dress was a dream, heavy yet bouncy, gorgeously collared. It even comes in burnt orange on Asos... And there was masses of fabric:
Both the pom pom and the blue velvet dress had me doing mental arithmetic to the tune of, "if I don't eat for say, a month..."
However, I've been saved from such drastic measures. Just this afternoon arrived a lovely vintage 1960s black velvet dress, which I ordered on Etsy before I left Mexico and have been waiting for an address to send for it. And the best part? It was only $33... : ) Good things come to those who search!