My Dad and I took a little trip to Durham, a beautiful old city about an hour and a half drive from Whitby. Apart from being an interesting day trip, it fit in nicely with the nostalgia of this visit, as my grandmother was born in a small mining village in County Durham, which we passed, and her mother studied at the university in Durham.
This was the college where she studied:
My family history is pretty undistinguished: nobody was rich or famous or related to the king or anything! However, my great grandmother deserves a mention, because she won a scholarship to study at Durham University, and she was only a miner's daughter from somewhere outside Newcastle.
She was also, by all accounts, quite a dragon. My uncle spent many years at sea, and once met a fellow Englishman in China or somewhere, who reminisced about being evacuated to Yorkshire during the war, and having an absolutely terrifying schoolteacher. After asking a few more questions my uncle said, "Oh, that was my grandmother!"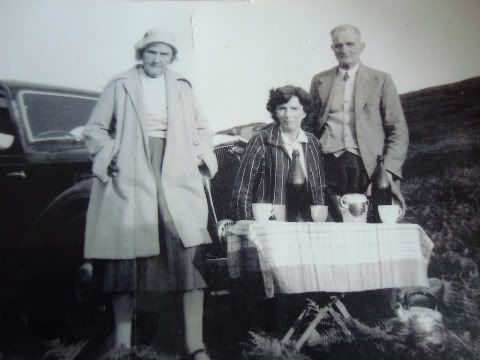 This is the dragon (on the left) with my own delightful, mild and sweet grandmother, and my great-grandfather, who by all accounts was lovely as well.
Looking at beautiful Durham Cathedral, where my great grandmother would have attended church on Sundays, and the castle, my dad and I thought that this must have been the highlight of her life. And perhaps she needed to be a dragon to get here.
Photo from freefotouk on flickr