At a goodbye party in Barcelona with a friend people always thought was my sister
When I buy clothes, I prefer to buy things I can see myself wearing for years. Obviously this is more economical, but an added bonus is that when I wear something I've had for a long time, I can remember all the fun I've had wearing it.
I bought the dress from yesterday's post in 2008, when I was living in Barcelona, and though I've worn it many times since then, I always associate it most with that city. One night that I remember well and that I have pictures from was a night during the Festes de Sants. In Barcelona, many of the little neighbourhoods that make up the city were once towns and villages in their own right, and during the summer they have celebrations: street parties with decorations, food, and music. Sants was the neighbourhood where I lived at the time, and I made it out on the last night, in my (then new) dress. I might not look too happy in the first picture, but I was just exhausted.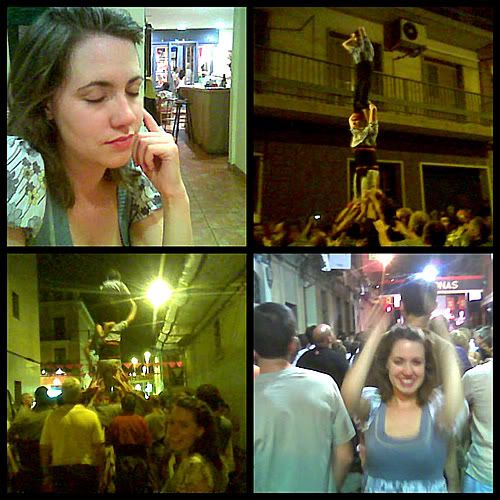 Excuse the photo quality on this occasion please! They were taken at night with a mobile phone!
In the second and third picture you can see something typical of Catalan culture: a castell. (Castell means castle in Catalan). Castells are human towers, made by one person standing on another's shoulders until the tower is quite high, and finally a child climbs up to be on top. This castell was very small and spontaneous (and walking through the streets like it's completely normal) but they can be quite large and impressive.
Here are some I saw randomly one morning going out for breakfast: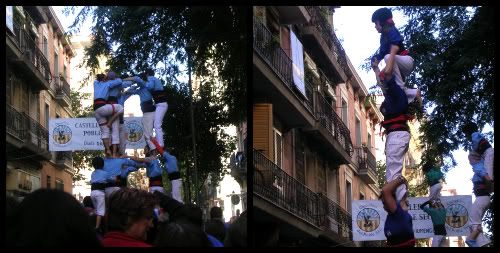 And here's what they are capable of!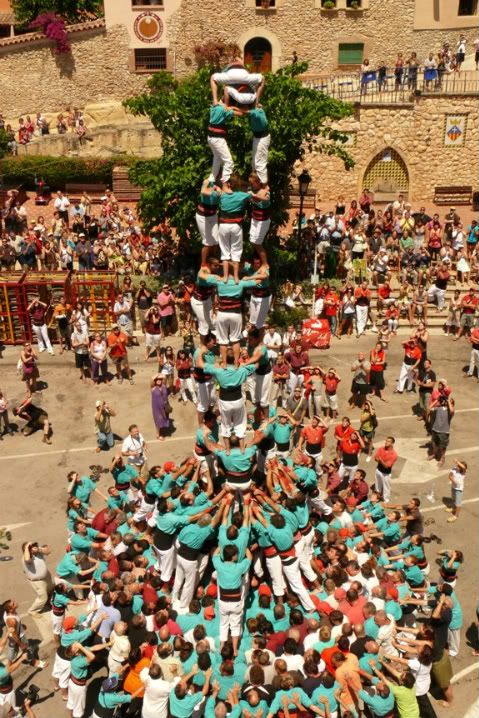 photo from calavellfalo on flickr
Thanks for taking a tour down memory lane with me! Do you have any item of clothing that you still wear that brings back some fun memories?