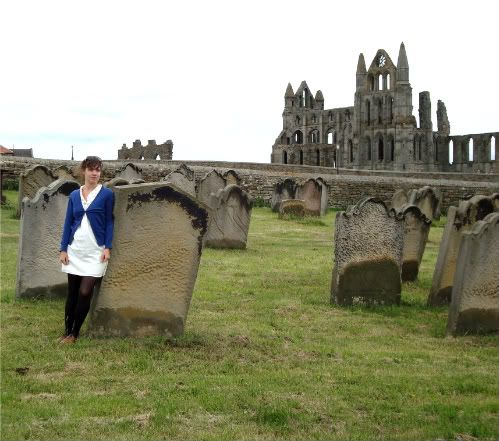 No trip to Whitby is complete without visiting the churchyard and the ruined abbey that sit mournfully on the cliff above the town. And so on my last morning there, I climbed the 199 steps to visit the weatherbeaten tombstones. Though it's a small place, Whitby has played host to two important literary figures. Bram Stoker was influenced by the undeniable gothic atmosphere, and set a part of his famous novel
Dracula
here. The undead count arrives in England aboard a ship of ghosts, guided by a dead captain who has tied himself to the wheel, and comes ashore in Whitby in the form of a great black dog. I've never been to a place more appropriate for his arrival, and the British Goths obviously agree with me: every year around Hallowe'en is "Goth Weekend," and they descend on the town en masse.
The other literary figure is Caedmon, not very much read these days, but he was the earliest known (by name) English poet. He wrote "Caedmon's Hymn," a frankly pretty boring poem about God which I studied in Anglo-Saxon literature and which supposedly came to him in a dream. He was a herdsman living at Whitby Abbey in the 7th century, back when Whitby was called Streonæshalch (an Anglo-Saxon name as opposed to the norse name it later acquired). While not by favourite poet, (or even my favourite Anglo-Saxon poet, hehe) I did feel a need to pose with his commemorative cross (quite modern).
Outfit is: Dress: Vero Moda, Cardigan: Current, Shoes: Steve Madden via ebay (A bit of a uniform on this trip, but I only brought carry-on luggage)!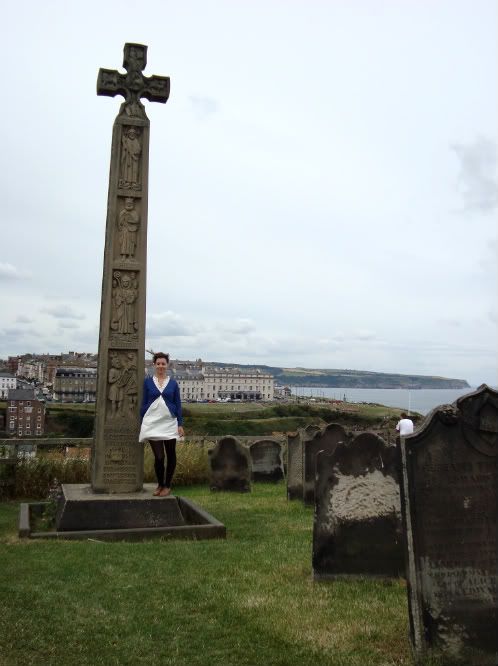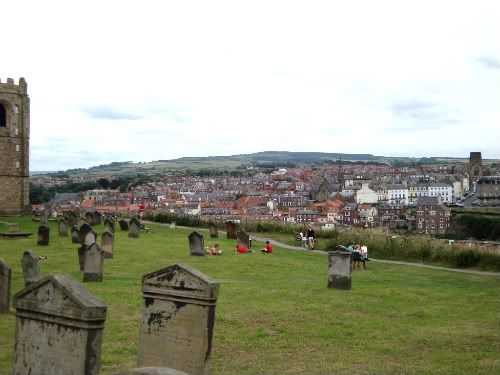 I also like to think I was channeling my grandmother a little in this picture. Here she is, many years ago, on the moors nearby: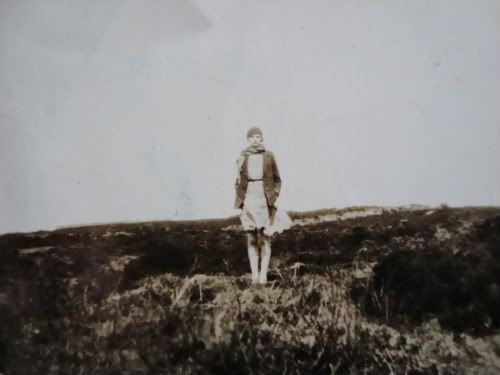 And finally, a little bit of landscape porn, since I love the area so much, I'm not sure when I'll be back, and really, can't I be self-indulgent on my own blog? ; )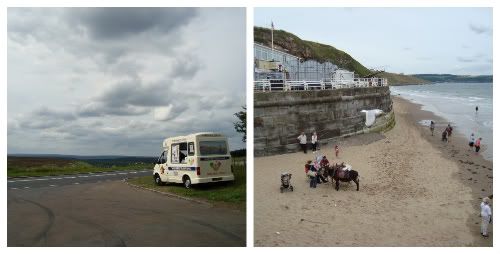 A solitary ice-cream truck on the moors, and the donkeys on Whitby beach. When I was a kid I always rode the donkeys and I knew all of their names!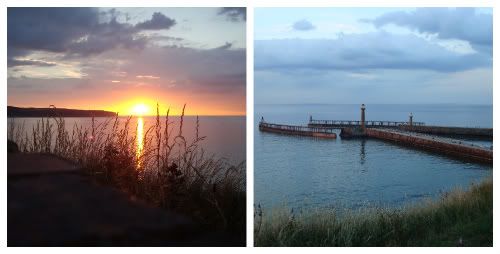 Images taken at sunset