After my intensely pessimistic Canada Day message on Friday, it's perfect timing to show some love to my wonderful country. I'm kicking off a series of summer-themed guest posts, and first up is the lovely, stylish and intelligent Zoë of Lion Heart Vintage. Who also happens to be from my hometown, Vancouver, which I always think has some of the best summers going (except for this year, apparently).
Hullo everyone!
This is Zoë reporting from Lion Heart Vintage . When Emily asked me to do guest post emphasizing our mutual love of our hometown Vancouver, I was thrilled although somewhat daunted! Vancouver is not the biggest city in the world but it has a lot going on - beaches, mountains, farmland, citylife and urban sprawl. We get a lot of rain but it makes us appreciate the beautiful summers all the more. Like the landscape, Vancouver fashion is also diverse. Walking down a street like Commercial Drive (the most eclectic neighbourhood in East Van) you'll see every style under the sun: hippy, punk, goth, vintage, chic, business, slacker, hipster... and styles that can't be categorized. It's diverse and exciting enough to be constantly inspiring, yet quaint enough to feel like home. I think Emily and I both know how lucky we are to be from such a great place! If anyone is thinking of taking Emily's lead and traveling somewhere you've never been - why not start with Vancouver?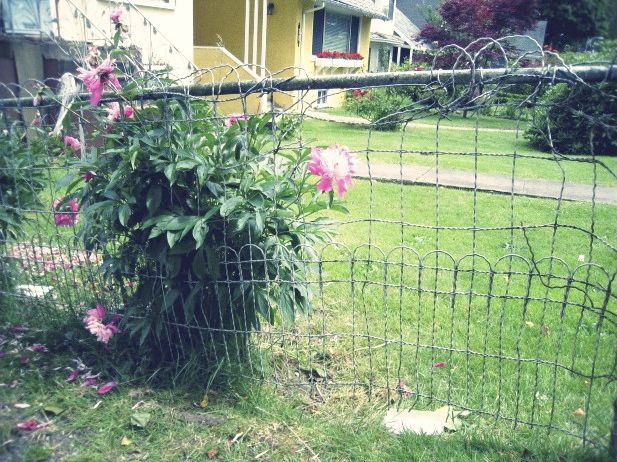 Outfit Details:
- Vintage Pear Print Dress from Deluxe Junk in Gastown
- Beige cardigan from Suzy Shier
- Vintage woven shoes from Value Village
- Thrifted vintage purse
This outfit was worn to my best friend's wedding rehearsal and I just love the fun, fruity print of the vintage dress. It's a fun alternative to the more traditional summer floral prints. And who doesn't love pears?
I hope you all have a lovely, sun-filled weekend and feel free to drop by
Lion Heart Vintage
anytime you please!
xoxo.
Zoë
Thanks again, Zoë (and everyone, absolutely check her out). And, erm, thanks for giving me some acute pear print dress envy too!