Complete lack of originality in that title, but I just got back from another weekend (definitely not at the beach, though extremely wet) and am pretty much asleep on my feet!
So, here I am at the Barcelona beach, which tends to be somewhat maligned by locals. They prefer taking trains up or down the coast to visit the beaches in small towns where there are far fewer tourists. I'm all for that as well (see
this post
) but I also think there's a lot to be said for being able to ride your bike to the beach in twenty minutes! I've included a few pictures from an earlier day, when there were all sorts of creative kite displays happening. Three men in identical black outfits were controlling those black kites, making them do flips and fly in formation, while the octopus was just chilling in the deep blue sky. I chilled in my fruit print (!!) dress, my only purchase from the sales (I'm incapable of resisting a good novelty print).
Welcome to all the new eyeballs around here, and please feel free to introduce yourselves. I'll try to get back to you all after a good night's sleep!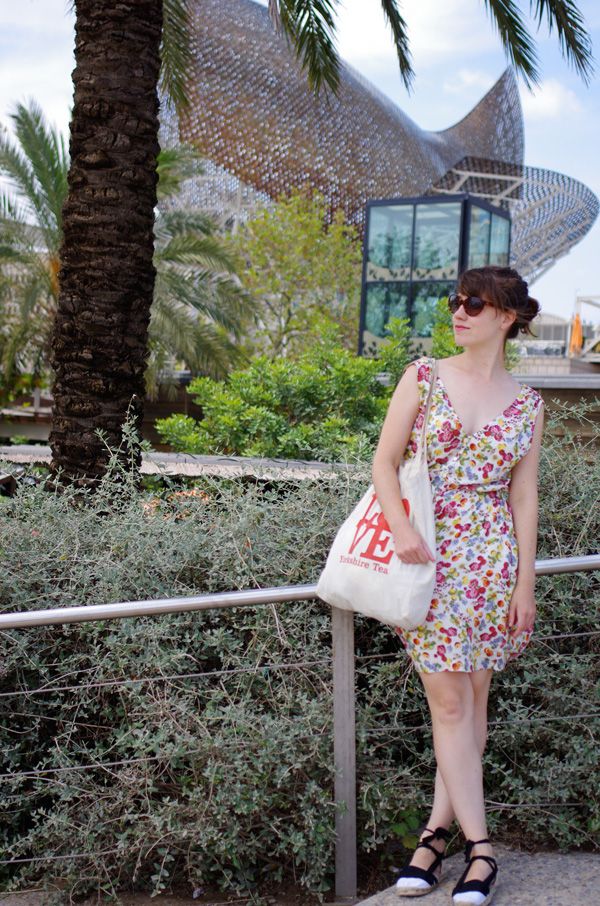 Photos by Albert
dress: Mango sales, Catalan espardenya shoes, Yorkshire Tea bag
P.S. I've been hearing those seasonable grumbles from bloggers to the effect of "I can't wait for fall so I can wear tights again." To which I say... you must be kidding... tights? Fall? I love Fall, but Summer is short enough as it is without wishing it away!