Living out of a 23kg suitcase all the time (plus about 15kg of carry-on luggage) means that I really have to edit what I bring every time I move. Luckily, my parents haven't yet objected to the fact that most of my belongings live at their house, and that I drop in twice a year or so to switch things up. And of course, whenever anyone visits me, I make them bring some things and take others away with them...
obsidian, tourmaline and silk neckace
One thing I usually bring too much of is jewellery. It might seem that jewellery is small and inconsequential and weighs very little, but it adds up like you wouldn't believe. So this time, I decided not to repeat the same old mistakes. And guess what? I brought too little.
So when my sister came last week, I got her to bring me some things I'd been missing.
citrine necklace--I love this necklace to bits but it's so heavy I always have to wear it on the plane! Still, it's worth it, I think citrine is one of the most beautiful of stones.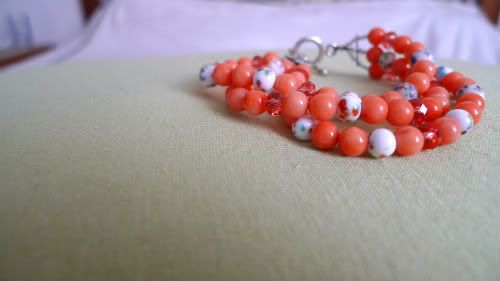 coral and white glass bead bracelet
All the above pieces were made by me when I worked at a bead store: the best crappy job ever!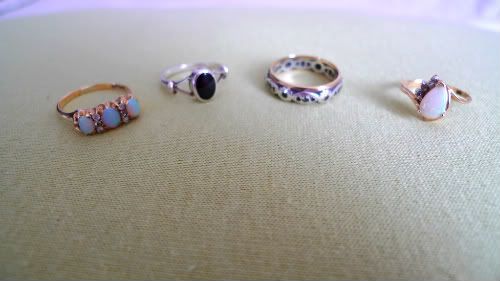 I like clunky rings but since I have tiny fingers they almost never fit me, so instead I have more delicate pieces.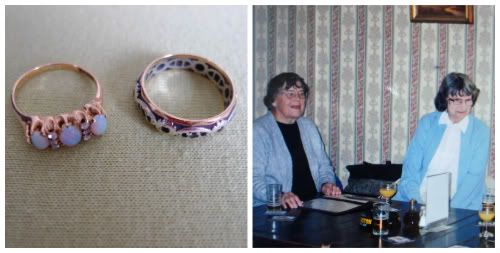 My Canadian grandma's opal ring and my English grannie's wedding ring. That one I actually brought back from England recently. I'm kind of allergic to it, but I wear it anyway. And a picture of the Canadian grandma and the English grannie, both of whom I miss very much.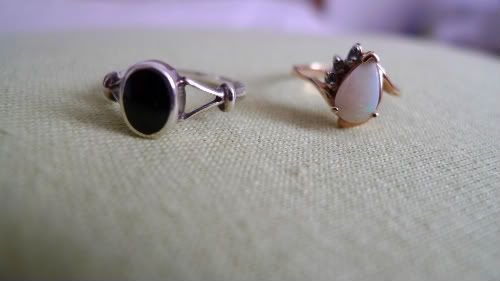 I always consider these two rings to be the two sides of myself, really. I've written about
Whitby Jet
before, and the jet ring I always associate with the town my father is from, and therefore my father's side of the family. Meanwhile, the other ring is opal, which is my birthstone, and also my mother's birthstone, and her mother's.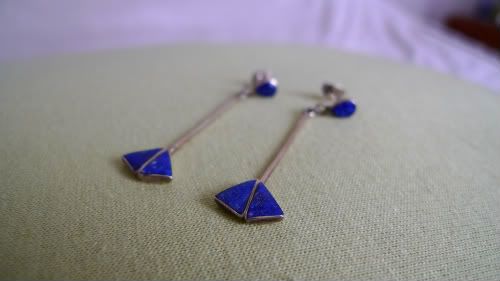 And finally, some earrings my mom gave me for Christmas last year in my stocking. When I opened them, I thought they were very nice, but they were on a cheap white card, so I said something like, "Wow, these aren't at all bad for being from Shopper's Drug Mart!" Which is where you expect things you find in your stocking to come from, correct? My mother's response, unfortunately was, "Shopper's Drug Mart? I bought those in Chile!" Oops. They are now always referred to as "the Shopper's Drug Mart earrings."
If you had a 1/2 kg absolute limit on your jewellery, what would make the cut?