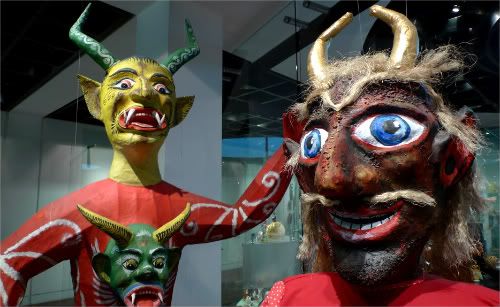 I had a great three day trip to Mexico City, even better than the previous ones because I actually planned some things to do for once. My usual routine when travelling is to show up and wander the streets, waiting for interesting sights to come and punch me in the eye, but since I'd already done a lot of wandering in this city and I didn't have a guide book, I hit up Trip Advisor for some ideas.
That led to us going to the Museum of Folk Art (Museo de Arte Popular) which I highly recommend to anyone visiting the Mexican capital. One of my favourite things about Mexican culture has always been its skeletons and skulls, its monsters and fighters, and all the magical and colourful components of a mythology based partly in Pre-Colombian culture, partly in Catholicism, and partly, I think, in the mad mixture of the two.
There was nothing fusty in this museum, it was a well-edited and well-displayed collection (pieces ranged in age from Pre-Colomibian to early 21st century), housed in a dramatic white building that was once an art deco fire station. Today I'm sharing with you a few of the monsters...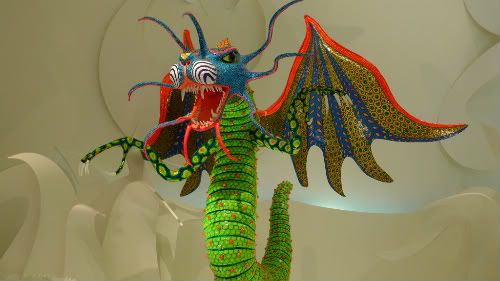 I'm sparing you guys pictures of me because, after a seven hour bus ride and changing in the hotel lobby bathroom, I looked a bit like a combination of these two guys, except with redder eyes: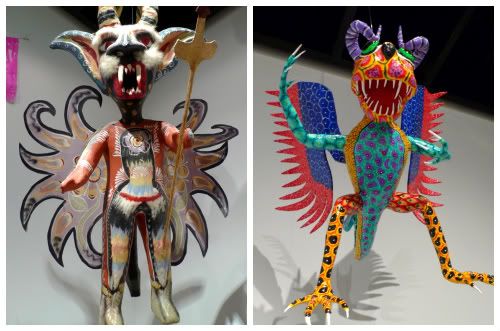 Won't you be mine?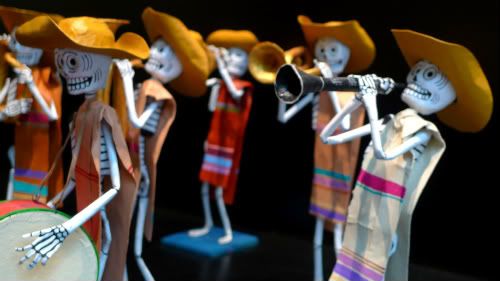 The rest of the band!
And last but not least, I loved this lady's feather eyelashes and delicate cut-out robe! Fashionable, no?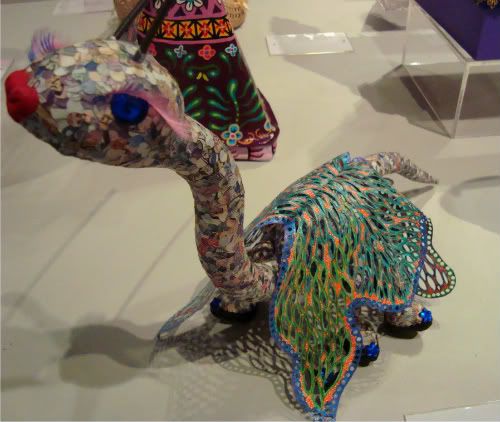 Most photos by my boyfriend, who was on a roll that day, and also still had some battery in his camera!