For what reason do we audit classes, but to skip them at our leisure? This is my way of saying that Interdisciplinary Approaches to Global Migration isn't happening tomorrow morning at 9 am. Especially not after homemade cannelloni and a few bottles of wine as a housewarming/thank you for having me dinner with the girls I spend two weeks with at the beginning of my time in London. Good times, but my head is too fuzzy for ethnological approaches to anything now...
So instead, I'm just going to mention that later this week is one of my favourite holidays--and no, I
don't
mean Halloween! Actually, I kind of dislike Halloween, since I find cobbling together a costume quite difficult from a traveller's point of view. One of my favourite holidays is instead, the day after, the Mexican festival of Day of the Dead.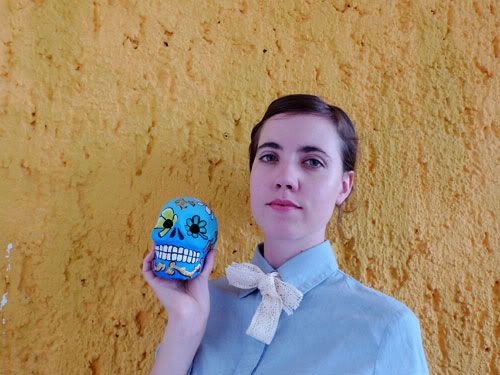 I love Day of the Dead because it is many things. It's colourful and musical and energetic, involving dressing in costumes and dancing around town and drinking hot chocolate, and it's also reflective and commemorative in a happy way. People in Mexico make shrines in memory of the dead, often including photographs, sugar skulls, the ubiquitous purple and orange flowers, and any items that could be considered to represent the loved one. When I asked one of my students last year about the day itself she replied, "Well, my mother likes to go visit her parents in the cemetary," and I generally found the whole attitude, the acceptance of death and the celebration of memory, to be a refreshing change from our Western culture of pretending unpleasantness doesn't exist, and sanitizing everything. Plus, just to be shallow again for a moment, the decorations can be exceptional!
Here's a makeshift shrine with many typical elements I managed to get together last year, when we were living in Puebla: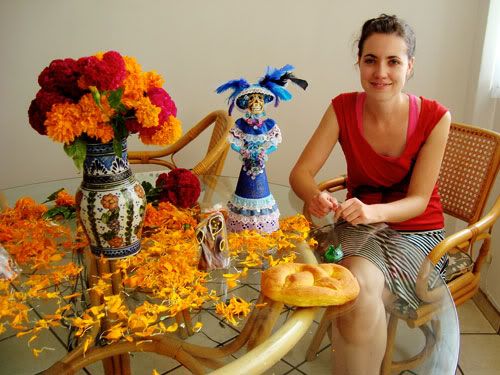 We went to a very typical place to celebrate the day itself, but more on that later! I've got to go read about global migration, or not...