Or, Oh! the never-ending pain of very expensive white dresses!
from
Liebemarlene
So, the weather is still distinctly spring-like around here, but it's June, that means I refuse to wear tights as a matter of principle, and it must be time for a spring wrap-up. Top prize goes to Rhiannon, above, of making my white eyelet-loving heart do a little dance, but there was lots of stiff competition.
I simply envy:
from
A Curious Fancy
and
Kennedy Holmes
I've had both of these saved for so long. I save pretty much everything Ragini posts; it was only a question of deciding which look to showcase. And Kennedy's 1950s beaded cardigan is pretty much the perfect spring layer: light, fun and warm!
Perfect Simplicity:
from
The Other Emily
and
Tick Tock Vintage
Spring and summer are all about simplicity, but for me, summer is loose simplicity, and spring is slightly more structured. I loved Emily's neutrals paired with perfect peach espadrilles, and Veronika's seamless chic and blouse with the lovely neckline
Crop tops and funky sunglasses: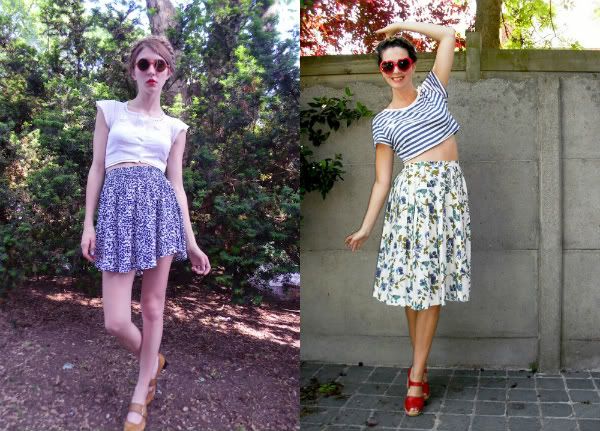 from
It Girl, Rag Doll
and
The Styling Dutchman
I'm still not sure how me and my stomach are going to fully embrace this look, but somehow, it's going to happen. I really want Emily's John Lennon sunglasses and both girls tops.
Shifty:
from
Mousevox Vintage
and
Tipa Tipa
Rachel looks lovely in a colourful shift and oversized hat, and Monique really goes the extra mile in this beautiful dress, perfectly accessorized, that she wore to her bridal shower.
from
Lulu Letty
Last but not least, I think Maria's monochrome dress+wall+pug look speaks for itself!