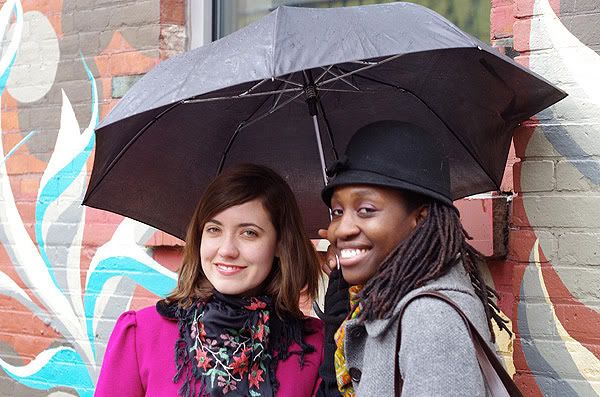 As I said before, I've met a lot of bloggers in the past couple of weeks. I knew that I really wanted to take advantage of being in New York to hook up with some girls I felt I knew already. Some meet ups didn't work out, sadly, as people lived further away than I thought they did, but I still managed to fit a lot of blog gossip into a couple of days. First up was the lovely
Monique of Tipa Tipa
. I only found Monique's blog a couple of months ago, and it became and instant favourite for her intelligence, grace, and lovely Brooklyn style and stories. So I was delighted when she agreed to meet me!
We meet in Brooklyn on a horrible day when it was absolutely pouring, and tucked ourselves into a cafe, which served delicious sandwiches (I had Brie, pear and mustard, mmmmmmm). And a couple of hours simply disappeared. It was so nice to get to know her; she's just like her blog, except louder and chattier, and we had some great conversations about traveling and New York. I just hope she'll come to Europe and hang out with me there... or I'll come back and take her up on that bike tour she was offering, and meet her fiancée and so on.... ; )
Also, these pictures are some of my favourites from the trip. How awesome is our unintentional colour blocking? I also like how we're basically dressed quite alike... clearly there are some commonalities. Also, I couldn't have asked for a better backdrop.
Photos by Albert
I wore my vintage coat, charity shop scarf, Warehouse jeans, American Apparel socks and shoes from ebay. Check out Monique's post
here
.