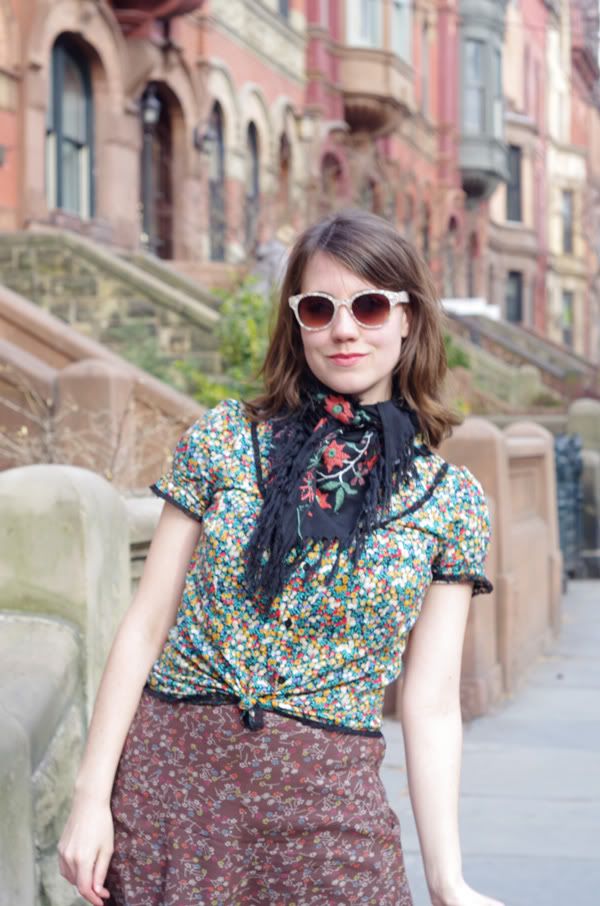 I realized, that for a person who claims to be not very fond of floral print clothing, I'm wearing no fewer than four florals in this outfit. I think it's not floral I object to so much (what kind of Scrooge could really object to flowers), but the ubiquitous nature of floral prints. It appears to be either the easiest, cheapest. or most universally appealing print manufacturers can produce, and I guess I just find it annoying that just because I'm female, it's assumed I want to be covered in flowers all the time. I'm reasonably girly, but don't like to be saccharine. So I'm subverting it with an overload of clashing florals. Or something.
Moving on, this was a great day out in Brooklyn. We walked over the Brooklyn bridge and then down to a restaurant called Junior's, which everyone seems to know about, and where I had artery-clogging eggs benedict and even more heart-attack-inducing cheesecake, while trying to eavesdrop on the next table, where two little old men straight out of a Woody Allen film were talking about relationships and their feelings! Then we walked down to one of the Beacon's Closet locations and to a few other vintage shops, wandered down some picturesque streets like these ones, and I imagined myself as a little girl living in a tenement in the early 20th century (I've been rereading
A Tree Grows in Brooklyn
and finally went to Prospect Park and to the Brooklyn Public Library, before staggering home exhausted.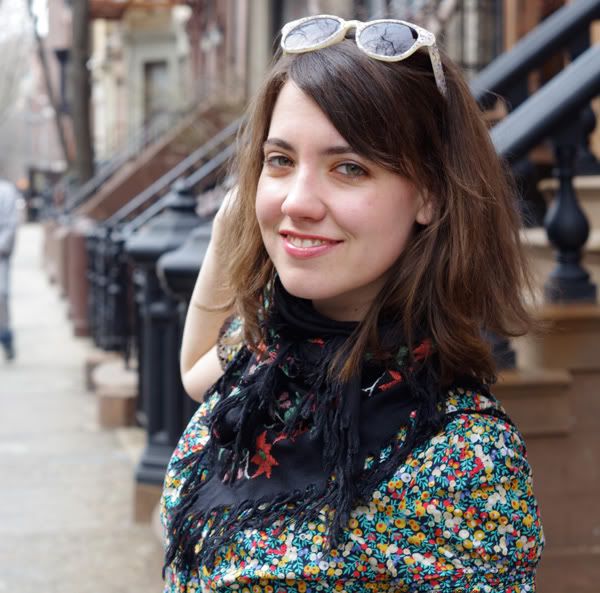 Photos by Albert. And yep, this is the new camera. We're so in love, though we're still figuring a lot of things out...
Pepe jeans blouse, ancient H&M dress and sunglasses, Camper shoes, charity shop scarf