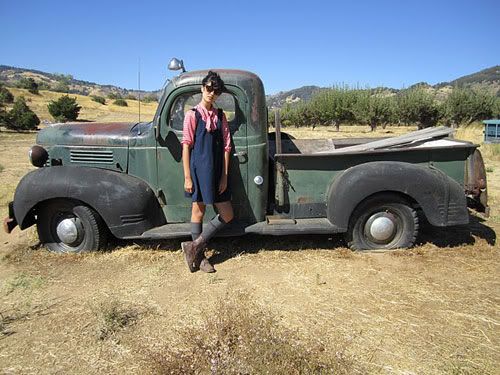 from
Milk Teeths
The ultimate style+travel photo, and I liked that blouse so much I bought it from her store!
I generally aim for a high degree of original content on this blog, but I really enjoyed rounding up my
favourite summer outfits
from some of my favourite bloggers in September, and couldn't resist doing an autumn roundup too. However, I've gone a bit overboard, so I'm splitting this post in two. This week you get the vibrant colours and sunny days outfits that most inspired me, next week a few more from the more wintry side of autumn. Since I featured my winter coat last post, and am basically wearing it all the time now, I guess autumn is truly over, in London at least...
I Want Your Dress: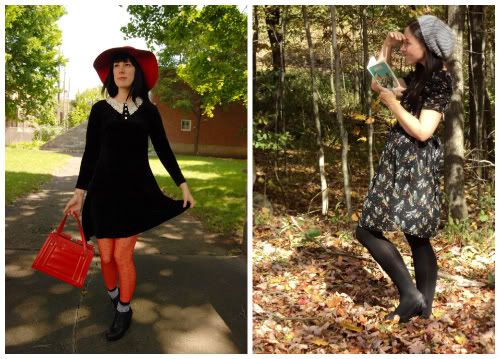 from
Yeye! Style Blog
and
Resplendent Tranquility
This was the year the Alexa Chung collection for Madewell had us all pining for black velvet dresses with little collars. Seeing Izzie's vintage example, I was inspired to spend hours of my life trawling Etsy for weeks, instead of spending too much money, and I'm very happy with the result. I also love her styling of it.
You can't see it well in the picture, but Emily from Resplendent Tranquility's dress has a pattern of chickadees! How perfect for autumn. I skulked around in H&M for quite a while in search of this, but fortunately for my budget they didn't have my size. And I could never have mustered up such a perfect location for it anyway!
Coloured Denim: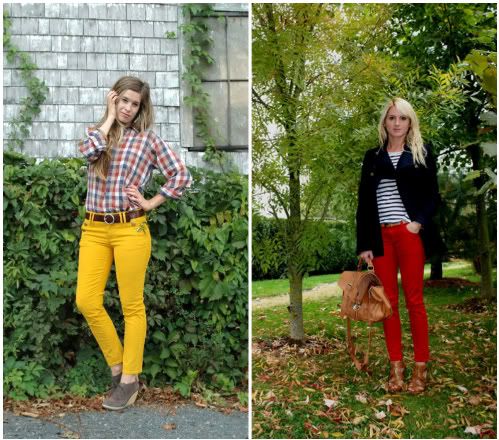 from
Orchid Grey
and
My Little Fashion Diary
After I bought my red Zara jeans I was pleased to see other bloggers following me on the coloured denim idea! ; ) Joking aside, red and yellow are probably the best autumn colours around, and I love the difference in the way they've been styled: sort of grunge-folk on Julie and classic all the way on Emilie. And both with truly great shoes...
Caitlin in Yellow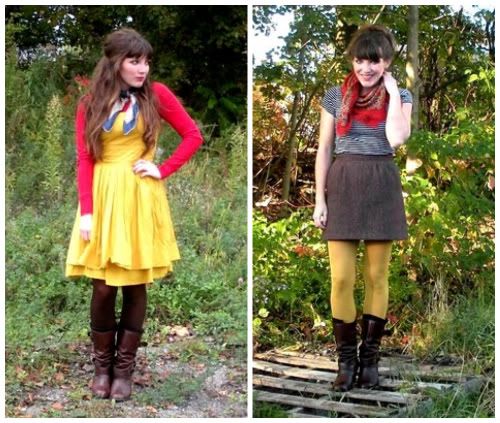 from
Waking Life
I honestly think Caitlin from Waking Life is one of the most stylish girls in blogland, and she made me doubly despairing of my own dressing abilities all fall by consistently wearing my favourite colour so perfectly. If you don't know her blog already, you should: head over for one perfectly put together look after another, and most of them taken before she goes to work, which just boggles my mind!
I Just LIke These Ones: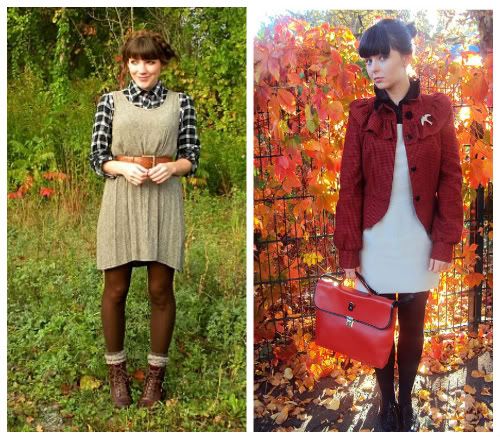 from
Waking Life
and
Birds Closet
More perfect looks with oatmeal and red, and also demonstrating that sometimes hair is the best accessory. Well, hair and a swallow-shaped brooch, if you can swing it.
Keeping Cozy: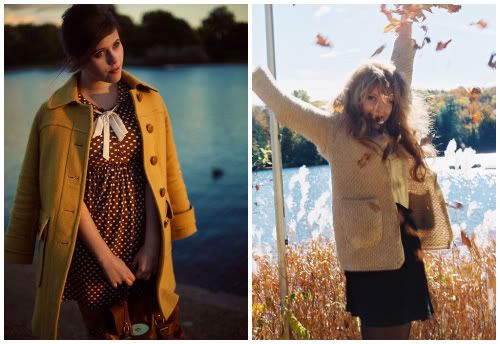 from
Wish Wish Wish
and
Hannah and Landon
Carrie's yellow coat set me back ages in my own coat shopping. I couldn't come to grips with the fact that I wasn't going to find the very one and make it mine.
Hannah's sweater looks warm too, but what really keeps me cozy is the picture itself. Taken during Canadian Thanksgiving, it reminded me in all the best possible ways of my favouritest of favourite holidays.
Any favourites among these? Or what were your favourite colours/looks this fall?