Yesterday it rained all morning (and much of the night) and was even chilly enough that I wore a sweater until noon, at which point I peeled it off and temporarily collapsed from heatstroke again. I suppose fall really must be here. Unlike a lot of you however, I'm still clinging on to the last bits of summer. And so I thought I'd share a few of my favourite blog-looks from this past season. I'm not much of a trend-follower, so I have a feeling I'll be consulting these pictures again next summer!
From
Le Blog de Betty
I think this was my favourite look of the summer which is pretty strange, because I don't like maxi dresses, I don't like strapless dresses, and while I enjoy Betty's blog, it's usually way more about trends than I am. However, I love the sheer madness of this look. The perfect summery white of the dress should be paired with strappy sandals, and it is, but they're crazy, disco-world sandals. Then there's the blingy bracelet, the simple appropriateness of her summer hat, and a pair of insane sunglasses that don't go with anything else but tie the whole look together. I don't know how you'd ever go around recreating this, but next summer I intend to try!
From
The Cherry Blossom Girl
and
Fancy Fine
Regular readers will know how much I love yellow dresses, and while I enjoy wearing
my sister's
great
yellow dress
, Alix basically owns the ultimate example. I think it's a bit sad when other bloggers imitate her too much and try and buy all her clothes (and there are certainly some that do this) but I admit that ebay and I had a long conversation on the subject of this particular See by Chloe dress. Result: nothing in my size and anyway $150 for a dress is slightly over-budget, but should I find it some time when I have a job...
Ashley's "Young Edwardian" dress isn't exactly summery, but it was absolutely one of the best dresses I saw this summer. I love it to bits. Enough said.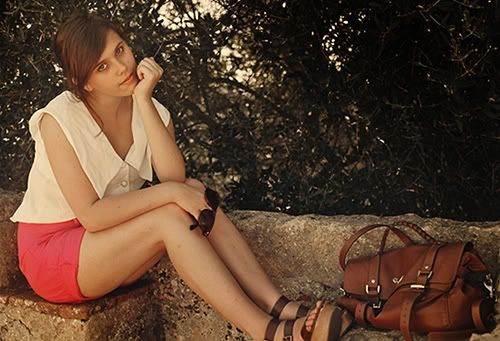 From
Wish Wish Wish
This was the summer I rediscovered shorts and I love Carrie's pink ones, paired with a great vintage blouse and brown accessories (my favourite). I almost bought pink shorts a couple of years ago, and now I remember why...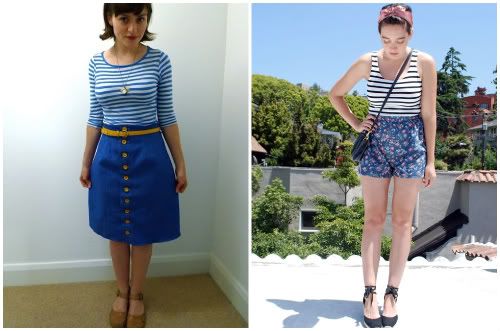 From
Tilly and the Buttons
and
Calivintage
Tilly's look is simple, cute and not-unattainable, but what really sold me on it is the fact that she made the skirt herself. If you don't know Tilly's
blog
you should definitely check it out. She decided not to go shopping for six months and set about making her own clothes, with no previous sewing knowledge. I'm more than inspired to follow her example, as soon as I stop moving all the time (sewing machine's are too heavy to travel with and too expensive to buy in every place).
As for Erin's "Pablo Picasso" outfit, I think it just got me nostalgic for Barcelona. I love the stripes with the floral, I love the scarf on her head and I lovvve the espadrilles. Next summer.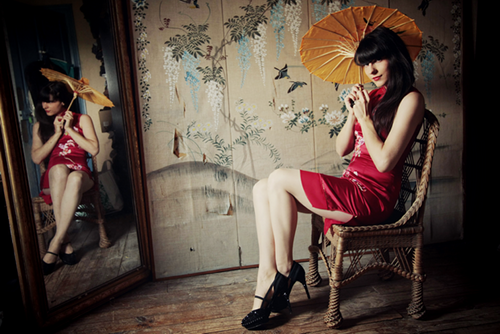 The Cherry Blossom Girl
again.
When I travel, I don't buy much in the way of souvenirs. But sometimes I like to pick up things that I can wear, that will always remind me of my time in that country (my favourite to date is a great poncho I bought last year in the mountains in Mexico). Well, Alix went to China and had this amazing qipao made for her. It fits her like a glove and is absolutely beautiful in every way, as was the photo shoot of course. It makes me want to go to China and get one myself! The perfect souvenir!
And now I'm off to enjoy a bit more sunshine, before I move to England and never see the sun again! How about you guys, did you have any favourite looks from the past season?