Hello all! It's currently 1 am and I'm waiting for another hour or so before I leave for my bus to the airport. I'm going away for a week (posting to continue as normal, or at least I think so). Any guesses as to where I'm going? Hint: it's still in Europe; I've spent a lot of time there in the past, and the weather is almost certainly better than here... although that's not entirely fair, because it's been quite nice here...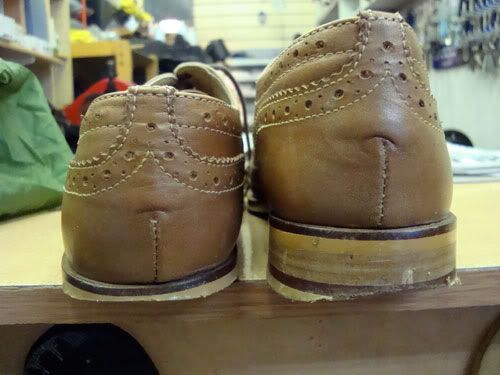 In other news, look at what happened to my shoes! This falls into the category of, "they don't make stuff the way they used to." Bah, humbug. I can think of no reason why the heel should fall off one of them. True, they were second hand, but they'd hardly been worn. It looks as though they were made more or less of pressed cardboard... useless. I've had them fixed, but still, I resent it, since I only bought them in June. Grrr.
So, where am I going? ; ) Hope everyone has a good weekend!