I don't tend to go on about bikes so much on the blog, but I actually love bikes. I think cycling is, depending on the city, the best way of getting around. In Barcelona it's perfect; allowing you to skip out on the hot and crowded metro and whizz down the cycle lanes with the wind in your hair. In fact, my reason for being in Barcelona the last couple of months is to study their four year old bike-share program, Bicing. Accordingly, I've been riding the public bicycles for several weeks, but finally drew a line under my research and got back to my old love... this little mountain bike on the craptacular side of vintage that I bought second hand in 2007. It just keeps going, and nobody tries to steal it.
These are my third pair of very Catalan shoes. Known as "espardenyes catalanes," they are worn by dancers of the traditional Sardana (most boring dance on the planet) and were also made famous by Dalí, who wore them all around.
And behind me is Barcelona's Arc de Triomf, made of brick and built for the Expo in 1888. I definitely prefer it to its more famous Parisian cousin, but then I'm biased. ; )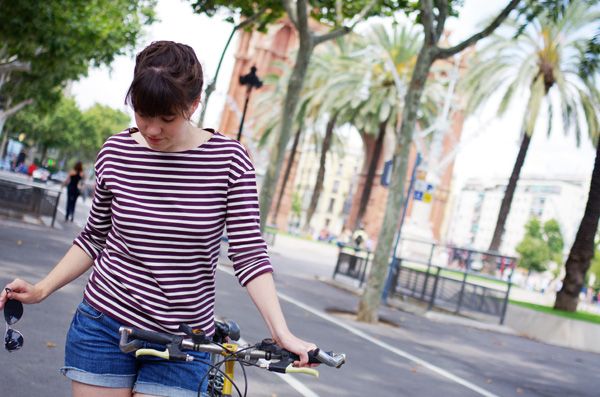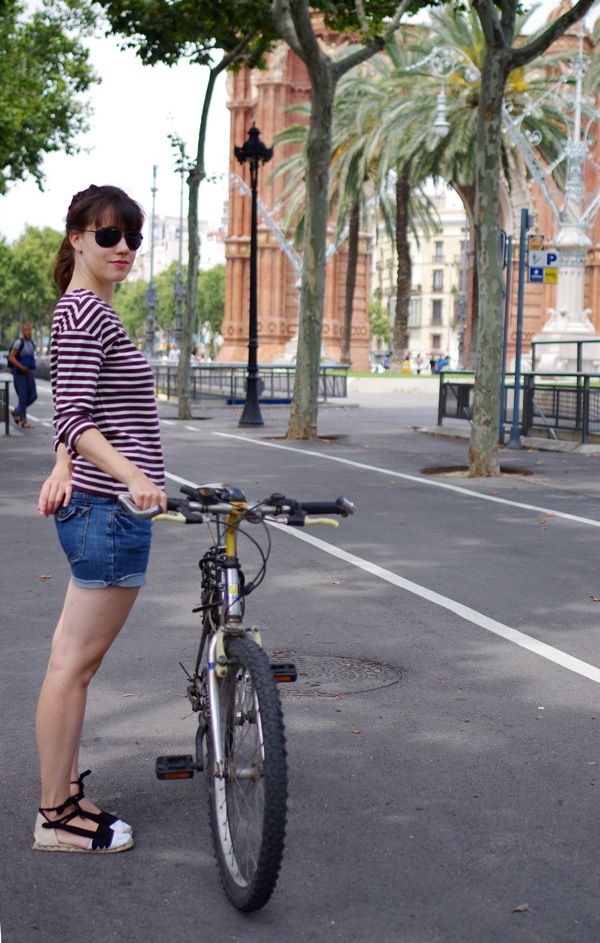 Photos by Albert
Topshop breton top, Billabong shorts (gift), Catalan Espardenyes, Sunglasses from Sanborns, Mexico
P.S. While this was an outfit I wore for a bike ride, I should say that I cycle in basically all my outfits. Since my main form of transportation is by bicycle, all my dresses and the majority of my shoes get ridden in. Another reason for a chic yet sensible wardrobe!
P.P.S. Just for fun, a few other bicycle posts:
Last Day in Guadalajara
Old Faithful
I'm Walking on Sunshine
Bicycles and Picnics and Beer, oh my!