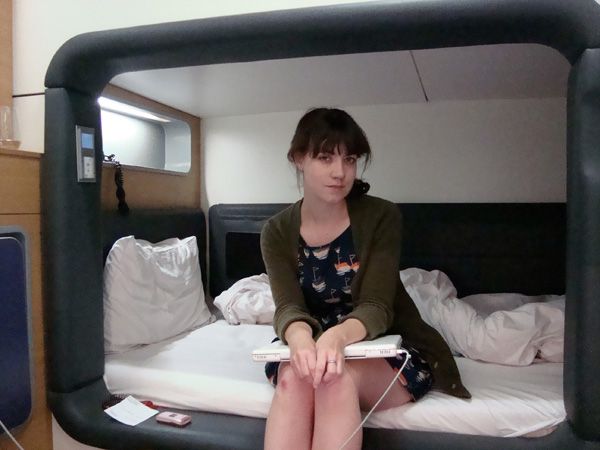 I spend a fair bit of time in airports...more than a fair bit of time, actually. However, like most people, I consider them vile, soulless places, where complexions whither under fluorescent lighting and ears are assaulted by threats to "remove and destroy" luggage. I have to say though, the unthinkable happened on my journey back to Canada... I had fun at the airport.
In the top picture, you see me in my pod. Since I had an overnight wait for my flight I checked into
Yotel
, which basically means you go through passport control, then down a white hallway reminiscent of
2001: A Space Odyssey
and are finally ushered into a tiny room (we're talking 2m sqaured or something) with a bed, a toilet a shower, and wireless. Let me tell you, having spent a couple of nights trying to sleep in airports, I think this is basically the best idea ever. It allowed me to leave my luggage and walk around, get dinner at a leisurely pace, plus cheat my luggage allowance in the morning by leaving all the heavy stuff for my carry-on back in the room. Bonus all round! Plus, I actually felt like a human being, except for some crazy vertigo I'd recently contracted. : D There's also a Yotel in London Gatwick, London Heathrow, and New York.
Schiphol is actually really civilized as airports go. They have proper lounges with a variety of comfortable seats (learn already, UK airports), a piano which anyone may play (though it has a sign telling you to leave it alone if you don't know how), and a mini exhibition from Amsterdam's Rijks Museum, to give you a taste of the Old Dutch Masters. I even breakfasted on a marvellous pancake from Dutch Kitchen, cooked right in front of me.
While I don't think I'd schedule a day-trip to Schiphol Airport, it's an excellent reminder that airports don't have to be overpriced malls with a side order of customer abuse.